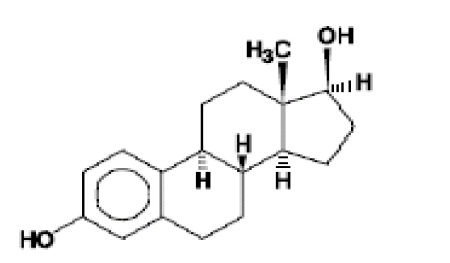 Estradiol
Dr Reddy's Development Status
Available
Innovator Brand (USA)
Menostar
Mechanism of Action
Endogenous estrogens are largely responsible for the development and maintenance of the female reproductive system and secondary sexual characteristics. Although circulating estrogens exist in a dynamic equilibrium of metabolic interconversions, estradiol is the principal intracellular human estrogen and is substantially more potent than its metabolites, estrone and estriol, at the receptor level.
The primary source of estrogen in normally cycling adult women is the ovarian follicle, which secretes 70 to 500 mcg of estradiol daily, depending on the phase of the menstrual cycle. After menopause, most endogenous estrogen is produced by conversion of androstenedione, which is secreted by the adrenal cortex, to estrone in the peripheral tissues. Thus, estrone and the sulfate conjugated form, estrone sulfate, are the most abundant circulating estrogens in postmenopausal women.
Estrogens act through binding to nuclear receptors in estrogen-responsive tissues. To date, two estrogen receptors have been identified. These vary in proportion from tissue to tissue.
Circulating estrogens modulate the pituitary secretion of the gonadotropins, luteinizing hormone (LH) and follicle stimulating hormone (FSH), through a negative feedback mechanism. Estrogens act to reduce the elevated levels of these hormones seen in postmenopausal women.
Indication
Menostar is an estrogen indicated for:
Prevention of Postmenopausal Osteoporosis
Dr. Reddy's Expertise
Headquartered in Hyderabad, India, Dr. Reddy's Laboratories is one of the leading Active Pharmaceutical Ingredients (API) suppliers globally. Dr. Reddy's API business is a preferred partner to pharma companies across the US, Europe, Brazil, Latin America, Japan, China, Korea, Middle East and other emerging markets.
Dr. Reddy's API business thrives on the deep technical strengths established over the last 30+ years in the development and manufacture of complex APIs such as steroids, peptides, complex long chain molecules and highly potent APIs (HPAPIs / oncology drugs). This expertise is complemented by our prowess in intellectual property and regulatory affairs which helps us consistently meet and exceed regulatory standards. Dr. Reddy's Estradiol API is the outcome of the extensive expertise in R&D, IP, and Regulatory.
A key component in helping our customers be first to market is a responsive supply chain. We achieve this by making sure that all our facilities are operating efficiently and to the latest standards of quality, safety, and productivity. A strong interconnect between business and factories allows for a quick reaction to dynamic market changes, so that we can avert shortages and meet sudden surges in demand.
Contact Us
Please fill in the following form and we'll get back to you shortly