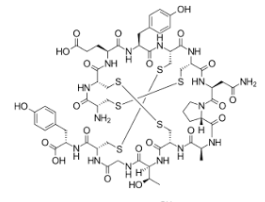 Linaclotide
Dr Reddy's Development Status
Under-Development
Innovator Brand (USA)
LINZESS
Mechanism of Action
Linaclotide is structurally related to human guanylin and uroguanylin and functions as a guanylate cyclase-C (GC-C) agonist. Both linaclotide and its active metabolite bind to GC-C and act locally on the luminal surface of the intestinal epithelium. Activation of GC-C results in an increase in both intracellular and extracellular concentrations of cyclic guanosine monophosphate (cGMP). Elevation in intracellular cGMP stimulates secretion of chloride and bicarbonate into the intestinal lumen, mainly through activation of the cystic fibrosis transmembrane conductance regulator (CFTR) ion channel, resulting in increased intestinal fluid and accelerated transit. In animal models, linaclotide has been shown to both accelerate GI transit and reduce intestinal pain.
In an animal model of visceral pain, linaclotide reduced abdominal muscle contraction and decreased the activity of pain-sensing nerves by increasing extracellular cGMP.
Indication
LINZESS is a guanylate cyclase-C agonist indicated in adults for treatment of:
Irritable bowel syndrome with constipation. (IBS-C)
Chronic idiopathic constipation. (CIC)
Dr. Reddy's Expertise
Headquartered in Hyderabad, India, Dr. Reddy's Laboratories is one of the leading Active Pharmaceutical Ingredients (API) suppliers globally. Dr. Reddy's API business is a preferred partner to pharma companies across the US, Europe, Brazil, Latin America, Japan, China, Korea, Middle East and other emerging markets.
Dr. Reddy's API business thrives on the deep technical strengths established over the last 30+ years in the development and manufacture of complex APIs such as steroids, peptides, complex long chain molecules and highly potent APIs (HPAPIs / oncology drugs). This expertise is complemented by our prowess in intellectual property and regulatory affairs which helps us consistently meet and exceed regulatory standards. Dr. Reddy's Linaclotide API is the outcome of the extensive expertise in R&D, IP, and Regulatory.
A key component in helping our customers be first to market is a responsive supply chain. We achieve this by making sure that all our facilities are operating efficiently and to the latest standards of quality, safety, and productivity. A strong interconnect between business and factories allows for a quick reaction to dynamic market changes, so that we can avert shortages and meet sudden surges in demand.
Contact Us
Please fill in the following form and we'll get back to you shortly