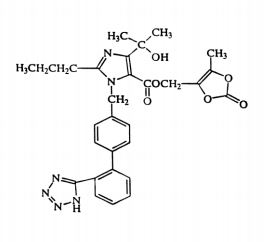 Olmesartan Medoxomil
Dose From
A - ORAL SOLID ORDINARY
Oral Solids
Oral Tablet
Dr Reddy's Development Status
Available
Available Regulatory Filing
Innovator Brand (USA)
BENICAR
Mechanism of Action
Angiotensin II is formed from angiotensin I in a reaction catalyzed by angiotensin converting enzyme (ACE, kininase II). Angiotensin II is the principal pressor agent of the renin-angiotensin system, with effects that include vasoconstriction, stimulation of synthesis and release of aldosterone, cardiac stimulation and renal reabsorption of sodium. Olmesartan blocks the vasoconstrictor effects of angiotensin II by selectively blocking the binding of angiotensin II to the AT1 receptor in vascular smooth muscle. Its action is, therefore, independent of the pathways for angiotensin II synthesis.

An AT2 receptor is found also in many tissues, but this receptor is not known to be associated with cardiovascular homeostasis. Olmesartan has more than a 12,500-fold greater affinity for the AT1 receptor than for the AT2 receptor.

Blockade of the renin-angiotensin system with ACE inhibitors, which inhibit the biosynthesis of angiotensin II from angiotensin I, is a mechanism of many drugs used to treat hypertension. ACE inhibitors also inhibit the degradation of bradykinin, a reaction also catalyzed by ACE. Because olmesartan medoxomil does not inhibit ACE (kininase II), it does not affect the response to bradykinin. Whether this difference has clinical relevance is not yet known.

Blockade of the angiotensin II receptor inhibits the negative regulatory feedback of angiotensin II on renin secretion, but the resulting increased plasma renin activity and
circulating angiotensin II levels do not overcome the effect of olmesartan on blood pressure.
Indication
Benicar is an angiotensin II receptor blocker (ARB) indicated for the treatment of hypertension in adult and pediatric patients six years of age and older, alone or with other antihypertensive agents, to lower blood pressure. Lowering blood pressure reduces the risk of fatal and nonfatal cardiovascular events, primarily strokes and myocardial
infarctions.
Dr. Reddy's Expertise
Headquartered in Hyderabad, India, Dr. Reddy's Laboratories is one of the leading Active Pharmaceutical Ingredients (API) suppliers globally. Dr. Reddy's API business is a preferred partner to pharma companies across the US, Europe, Brazil, Latin America, Japan, China, Korea, Middle East and other emerging markets.
Dr. Reddy's API business thrives on the deep technical strengths established over the last 30+ years in the development and manufacture of complex APIs such as steroids, peptides, complex long chain molecules and highly potent APIs (HPAPIs / oncology drugs). This expertise is complemented by our prowess in intellectual property and regulatory affairs which helps us consistently meet and exceed regulatory standards. Dr. Reddy's Olmesartan Medoxomil API is the outcome of the extensive expertise in R&D, IP, and Regulatory.
A key component in helping our customers be first to market is a responsive supply chain. We achieve this by making sure that all our facilities are operating efficiently and to the latest standards of quality, safety, and productivity. A strong interconnect between business and factories allows for a quick reaction to dynamic market changes, so that we can avert shortages and meet sudden surges in demand.
Contact Us
Please fill in the following form and we'll get back to you shortly