Being Prepared for What's Next and a Shared Purpose of Serving Patients Whatever it Takes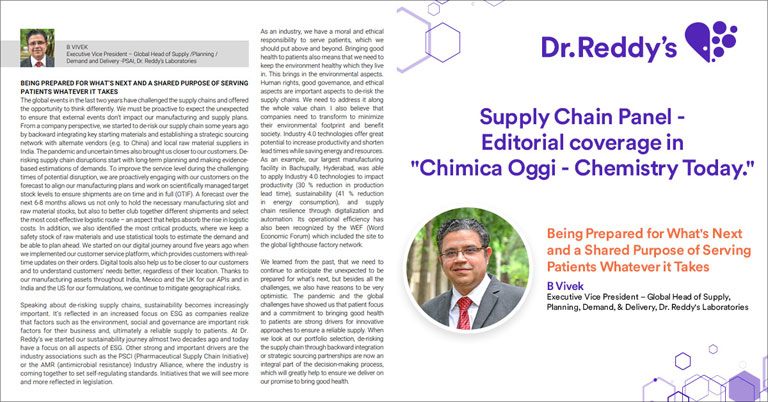 B Vivek, Executive Vice President – Global Head of Supply, Planning, Demand, and Delivery at Dr. Reddy's Laboratories, recently contributed to the Supply Chain Panel in Chimica Oggi - Chemistry Today. The panel discussed the importance of being prepared for the unexpected and the shared purpose of serving patients no matter what. Vivek highlighted Dr. Reddy's commitment to de-risking their supply chain, engaging with customers to ensure on-time shipments, and addressing ESG factors in their operations. He also discussed the potential of Industry 4.0 technologies to improve productivity, sustainability, and supply chain resilience. Vivek's contribution emphasized the importance of a patient-focused approach in the pharmaceutical industry.
Access the full article here.
Contact Us
Please fill in the following form and we'll get back to you shortly.