New Product Alert – Lumateperone Tosylate API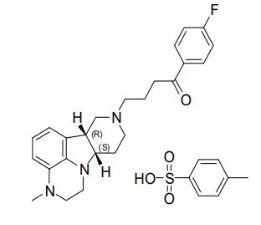 Lumateperone is a serotonin 5HT2A receptor antagonist, a dopamine receptor phosphoprotein modulator (DPPM), and a serotonin transporter (SERT) inhibitor. Unlike existing schizophrenia treatments, Lumateperone is a first-in-class molecule that provides selective and simultaneous modulation of serotonin, dopamine, and glutamate—three neurotransmitter pathways implicated in severe mental illness.
Market Overview:
The worldwide prevalence of schizophrenia is approximately 0.5 to 1%. It is one of the leading causes of disability worldwide, with a life expectancy of around 15 years less than individuals without schizophrenia.
Approximately 50% of individuals with schizophrenia experience a relapse/exacerbation in psychotic symptoms within one year after their last episode; most relapses occur in medication non-adherence.
According to global data, the bipolar disorder market is expected to grow from $4.1 billion in 2020 to $4.9 billion by 2030 at a compound annual growth rate (CAGR) of 1.7%. Furthermore, as the number of cases remains relatively stable over the forecast period (10 years), Lumateperone Tosylate is expected to become a top-three anti-psychotic drug and hit $1.2 billion in global sales across various indications by the financial year 2030-31.
To know more about our API offerings, please read the new product alert on Lumateperone Tosylate by filling the contact from below.
Download Now
Please fill the Contact form below in order to view the white paper