Product Alert – Niraparib API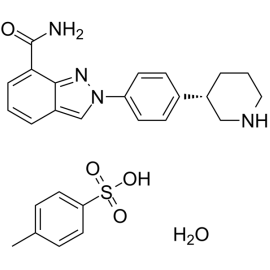 Niraparib binds to the PARP enzyme and prevents it from repairing single-strand breaks in DNA. This causes the cancer cell's DNA to become more damaged, leading to cell death. Since cancer cells often have more DNA damage than healthy cells, they are more sensitive to the effects of PARP inhibitors like Niraparib.
Dr. Reddy's API Offering
Developing innovator Form (Tosylate monohydrate form 1), a gram sample can be offered.
Particle size distribution (PSD) - We can offer customized particle sizes based on customer requirements.
Reliable KSM suppliers added to ensure timely deliveries and adherence to stringent specifications.
Planning adequate capacity to supply development quantity in a short lead time.
To learn more about our API offerings, please read the Tech sheet on Niraparib API by filling out the contact form below.
Download Now
Please fill the Contact form below in order to view the white paper