Tech Sheet on Voriconazole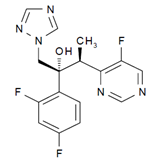 Voriconazole (Vfend®) is an azole antifungal indicated for invasive aspergillosis candidemia (non- neutropenic) and disseminated candidiasis in skin, abdomen, kidney, bladder wall, and wounds, and esophageal candidiasis. Furthermore, it is used to treat serious infections caused by scedosporium apiospermum and fusarium species, including fusarium solani, in patient's intolerant of, or refractory to other therapy.
Dr. Reddy's is among the earliest generic API manufacturers globally to file the USDMF for Voriconazole API. Besides the USDMF, we have regulatory filings available for Canada, CEP, China, and Israel. We manufacture Voriconazole at our cGMP API manufacturing facility, which was successfully inspected by international regulatory authorities including WHO GMP, KDMF, PMDA, COFEPRIS, and MHRA.
Our process has been designed to address customized PSD requirements through size reduction and crystallization techniques to consistently meet the most desired PSDs at a commercial scale.
To know more about our API offerings, please read the Tech sheet on Voriconazole by filling the contact form below.
Download Now
Please fill the Contact form below in order to view the white paper