Product Alert – Relugolix API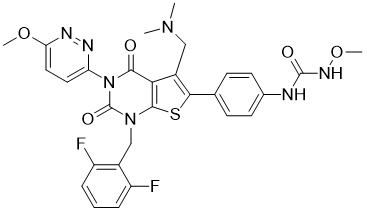 Relugolix is a medication used for the treatment of advanced prostate cancer, endometriosis- associated pain, and uterine fibroids. It works by suppressing the production of hormones that stimulate the growth of tumors or cause pain and other symptoms associated with these conditions.
Specifically, Relugolix is a gonadotropin-releasing hormone (GnRH) receptor antagonist, which means it blocks the action of GnRH, a hormone that regulates the production of other hormones such as testosterone in men and oestrogen in women. By blocking the GnRH receptor, Relugolix reduces the levels of these hormones, which can slow or stop the growth of prostate cancer cells or shrink uterine fibroids and relieve symptoms of endometriosis.
Dr. Reddy's API Offering
Dr. Reddy's synthetic process is design around of Innovator Process.
We plan to offer anhydrous crystalline form (innovator form) and novel and stable crystalline form (Lab samples for the same are available).
cGMP API manufacturing facilities, successfully inspected by international regulatory authorities (TGA, WHO GMP, KFDA, PMDA, Health Canada, ANVISA and USFDA)​.
Genotoxic impurity (GTI) strategy as per ICH M7 guidelines and strategy for nitrosamine impurities are under evaluation..
To know more about our API offerings, please read the Tech sheet on Relugolix API by filling the contact form below.
Download Now
Please fill the Contact form below in order to view the white paper