Tech Sheet on Linagliptin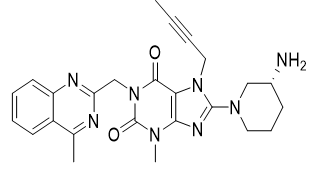 Linagliptin is an inhibitor of dipeptidyl peptidase-4 (DPP-4), an enzyme that degrades the incretin hormones glucagon-like peptide-1 (GLP-1) and glucose-dependent insulinotropic polypeptide (GIP). Thus, linagliptin increases the concentrations of active incretin hormones, stimulating the release of insulin in a glucose-dependent manner and decreasing the levels of glucagon in circulation. Both incretin hormones are involved in the physiological regulation of glucose homeostasis.
We are among the earliest generic API manufacturers globally to file the USDMF for Linagliptin API. The DMF for Korea is also filled. We offer country-specific regulatory filings for global market expansion, so we are diversifying our filing to all the major regulated markets.
Our API offerings:
We offer a mixture of crystalline Form A and Form B - a prior art form
A process which is improved and disclosed in the product patent and designed around the innovator's process IP.
Quality by design (QbD) based API development for a consistent quality profile
Our process has been designed to address customized PSD requirements through size reduction and crystallization techniques to consistently meet the most desired PSDs at a commercial scale.
To know more about our API offerings, please read the Tech sheet on Linagliptin by filling the contact form below.
Download Now
Please fill the Contact form below in order to view the white paper