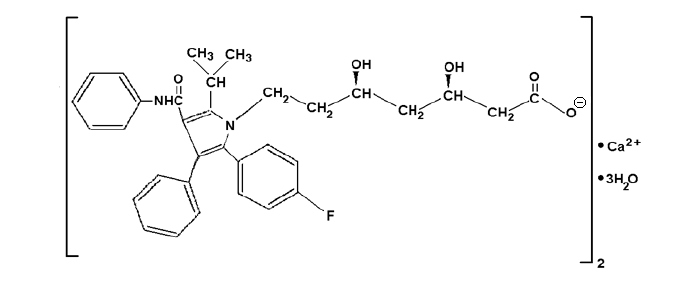 Atorvastatin Calcium (Amorphous)
Dr Reddy's Development Status
Available
Available Regulatory Filing
USA
Canada
Europe
Singapore
Taiwan
Korea
Brazil
China
New Zealand
Australia
Innovator Brand (USA)
Lipitor
Mechanism of Action
As with other statins, atorvastatin is a competitive inhibitor of HMG-CoA reductase. Unlike most others, however, it is a completely synthetic compound. HMG-CoA reductase catalyzes the reduction of 3-hydroxy-3-methylglutaryl-coenzyme A (HMG-CoA) to mevalonate, which is the rate-limiting step in hepatic cholesterol biosynthesis. Inhibition of the enzyme decreases de novo cholesterol synthesis, increasing expression of low-density lipoprotein receptors (LDL receptors) on hepatocytes. This increases LDL uptake by the hepatocytes, decreasing the amount of LDL-cholesterol in the blood. Like other statins, atorvastatin also reduces blood levels of triglycerides and slightly increases levels of HDL-cholesterol.
Indication
LIPITOR is anHMG-CoA reductase inhibitorindicatedas an adjunct therapy to diet to:
Reduce the risk of MI, stroke, revascularization procedures, and angina in adult patients without CHD, but with multiple risk factors.
Reduce the risk of MI and stroke in adult patients with type 2 diabetes without CHD, but with multiple risk factors .
Reduce the risk of non-fatal MI, fatal and non-fatal stroke, revascularization procedures, hospitalization for CHF, and angina in adult patients with CHD .
Reduce elevated total-C, LDL-C, apo B, and TG levels and increase HDLC in adult patients with primary hyperlipidemia (heterozygous familial and nonfamilial) and mixed dyslipidemia .
Reduce elevated TG inadultpatientswith hypertriglyceridemiaand primary dysbetalipoproteinemia.
Reduce total-C and LDL-C in patients with homozygous familial hypercholesterolemia (HoFH)
Reduce elevated total-C, LDL-C, and apo B levels in pediatric patients, 10 years to 17 years of age, with heterozygous familial hypercholesterolemia (HeFH) after failing an adequate trial of diet therapy
Dr. Reddy's Expertise
Headquartered in Hyderabad, India, Dr. Reddy's Laboratories is one of the leading Active Pharmaceutical Ingredients (API) suppliers globally. Dr. Reddy's API business is a preferred partner to pharma companies across the US, Europe, Brazil, Latin America, Japan, China, Korea, Middle East and other emerging markets.
Dr. Reddy's API business thrives on the deep technical strengths established over the last 30+ years in the development and manufacture of complex APIs such as steroids, peptides, complex long chain molecules and highly potent APIs (HPAPIs / oncology drugs). This expertise is complemented by our prowess in intellectual property and regulatory affairs which helps us consistently meet and exceed regulatory standards. Dr. Reddy's Atorvastatin Calcium (Amorphous) API is the outcome of the extensive expertise in R&D, IP, and Regulatory.
A key component in helping our customers be first to market is a responsive supply chain. We achieve this by making sure that all our facilities are operating efficiently and to the latest standards of quality, safety, and productivity. A strong interconnect between business and factories allows for a quick reaction to dynamic market changes, so that we can avert shortages and meet sudden surges in demand.
Contact Us
Please fill in the following form and we'll get back to you shortly